I have always been attracted to old things, and I enjoy discovering discarded or overlooked objects and breathing new life into them. Bits of paper, pieces of faded fabric, bits of metal and wood are the materials that excite and motivate me: I find them at flea markets and estate sales, in barns and dumpsters and on the street.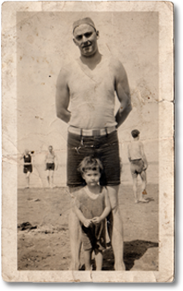 I'm especially attracted to old photographs: these people seem like they have stories to tell. My collages and assemblages are frequently my attempt to tell those stories as I imagine them. I sometimes work from photos that I find or buy, of people that I don't know. But I particularly enjoy working with my own family photographs.
My current work starts with a variety of surfaces…I layer acrylic, oil pastel, image transfer, found paper, photographs, wax and other objects. I like the dreamy feeling that the wax gives; it enhances the depth and the sense of age and nostalgia of the materials.
My work was selected for the Arts Council of Sonoma Small Works Show, juried by David Best and the Gallery Route One anniversary show juried by Kenneth Baker. I have shown my work at Toby's in Point Reyes Station and at Aqus Cafe and the Mail Depot in Petaluma.
My ceramic work has shown at the V Brier Gallery in San Francisco and appears in "500 Cups" published by Lark Books.
I grew up in San Francisco, graduated from San Francisco State University with a degree in textiles, and have been working in graphic print design and production for more than 25 years. I live in Petaluma, California.
{ email }